AMAZING LIVE MUSICAL ENTERTAINMENT.
 Full-Time, Professional, Wedding & Special Event Musicians & Showmen
Get a taste of what you can expect when you book us for your wedding or special event. 
Watch our latest video montage by clicking on the video below.  
Check pricing & availability
Do you like what you've seen so far?
Complete the form below and we will get back to you with our pricing and availability…
Watch more evening entertainment vidEOs
The PERFECT band for your Wedding or Special Event!
Not only will you be getting a professional band that has packed hundreds of dance floors up and down the UK when you book directly with us, but you'll also be receiving the following benefits…
FREE Playlist Disco (You choose the hits & save £300+ on a DJ)
FREE www.GuestReqeust.co.uk Account (Worth £89)
FREE www.FirstDancePrints.co.uk Voucher (Worth £30)
All Inclusive Pricing with NO HIDDEN COSTS!
Flexible Payment Options (Option to pay monthly, interest free)
Pro-Grade Sound & Lighting Systems
Fully Insured Band (£5 Million PLI)
Professional Booking Management with NO AGENCY FEES
Secure Contractual Booking
Optional Afternoon Acoustic Options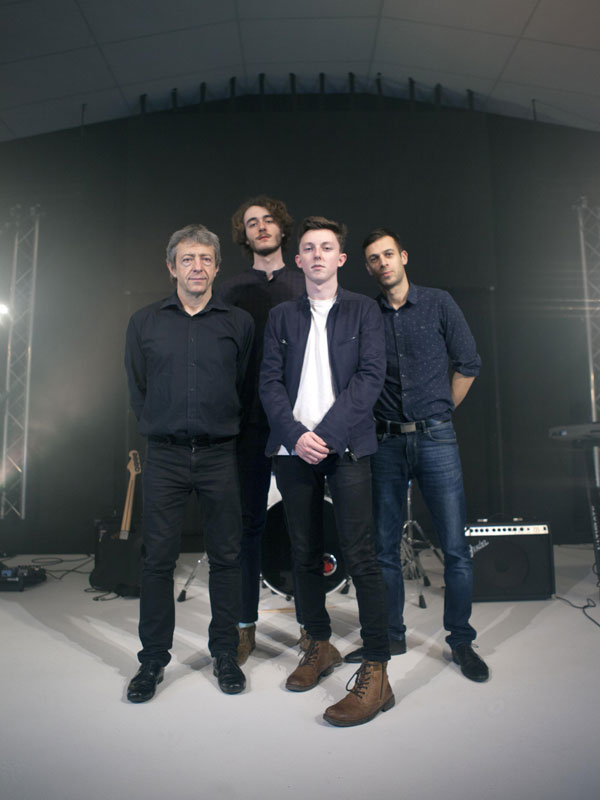 Check Out What our previous customers had to say…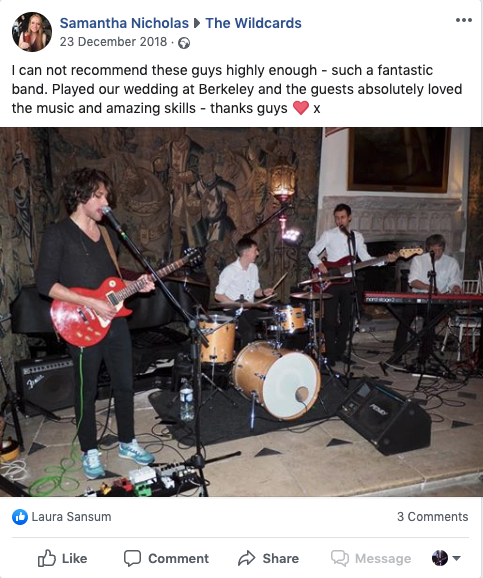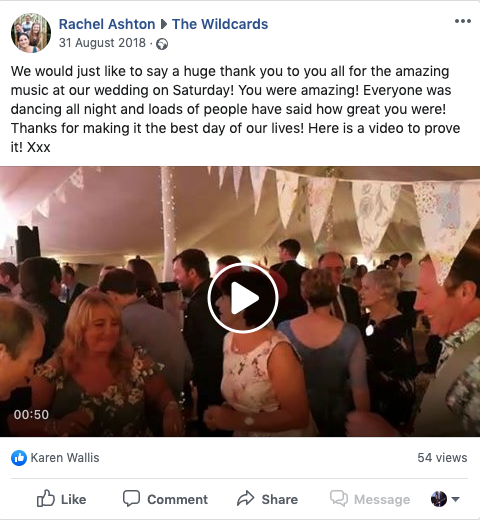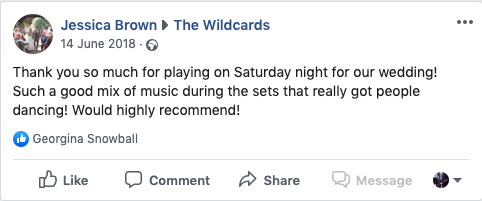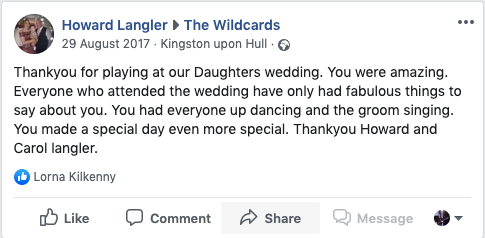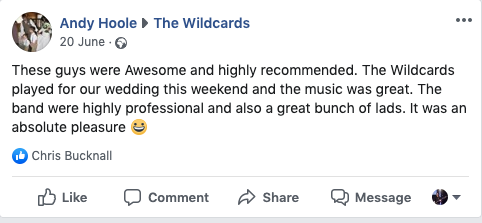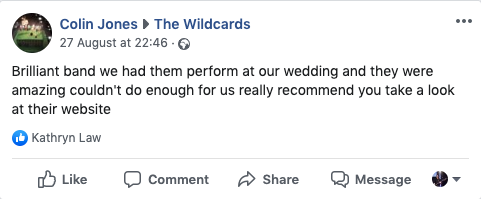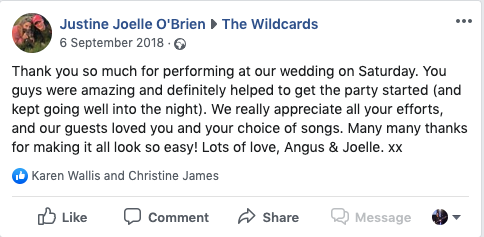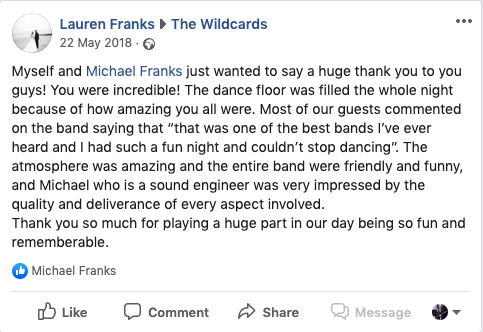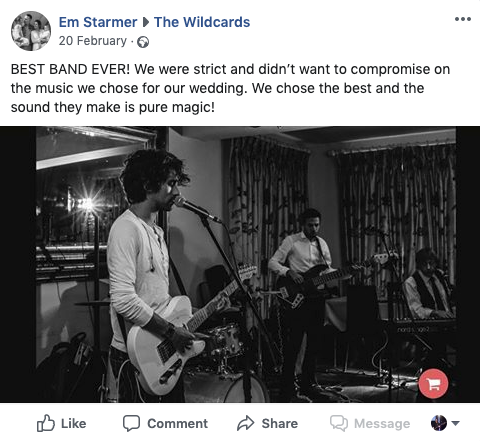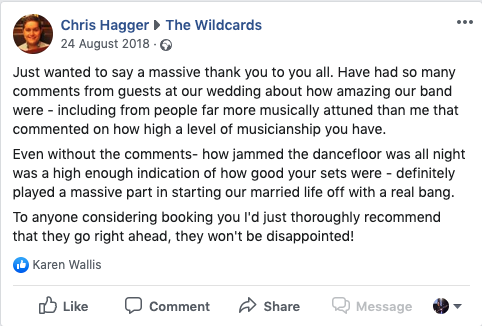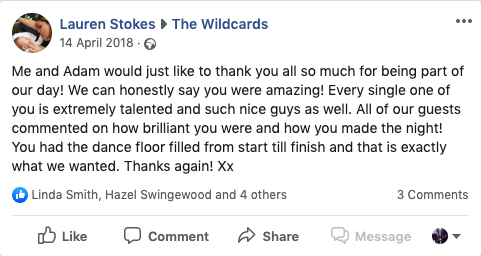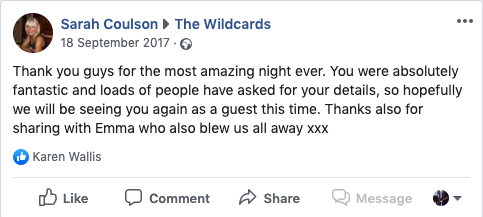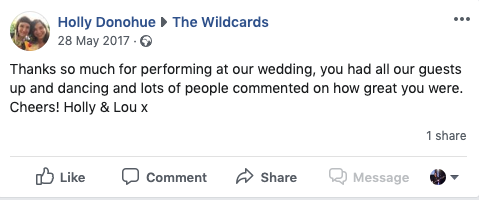 Everything you need to know!
Find out a little bit about us and what we do and check out a list of the questions we regularly get asked by clients!
How many are in the band?
There are 4 of us as standard, but occasionally we come as a 5-piece depending on our extra man's availbility. If we do come as a 5-piece, there's not extra charge.
Do you do a discount for charity?
We certainly do. We will always discount 10% off our fee for a registered charity as long as 100% of the proceeds are going to that cause.
What else do we have to provide?
We're pretty low maintanence, but we do ask that your provide some food and soft drinks for us either prior to the performance or in the interval if the set is to be broken into two, which is often that case at weddings. We also ask that you ensure there are two car parking spaces for us.
How much do you charge?
Our fee varies depending on the time of year. For example, a Summer Saturday would be significantly more expensice than a Tuesday in February. Please use the quote form to get an accurate price.
Do you bring your own equipment?
For weddings, we're completely self contained and bring with us a professional PA and Lighting system so our brides and grooms don't have to worry about anything on the day. For corporate shows at very large venues, we provide a technical specification for your production company to work from. Our manager will always liase with them to make sure everything runs smoothly.
Do you bring a stage and a dance floor?
No. That's not something that we would provide. Your venue will be able to supply you with contact details of one of their approved suppliers. We are more than happy to perform on the floor though, so please don't feel obliged to hire a stage
Ready to book the perfect band for your wedding or special event?
Get in touch by completing the form and we will get back to you ASAP to provide you with pricing and availability.
© Copyright 2019 - The Wildcards